BUY TICKETS HERE.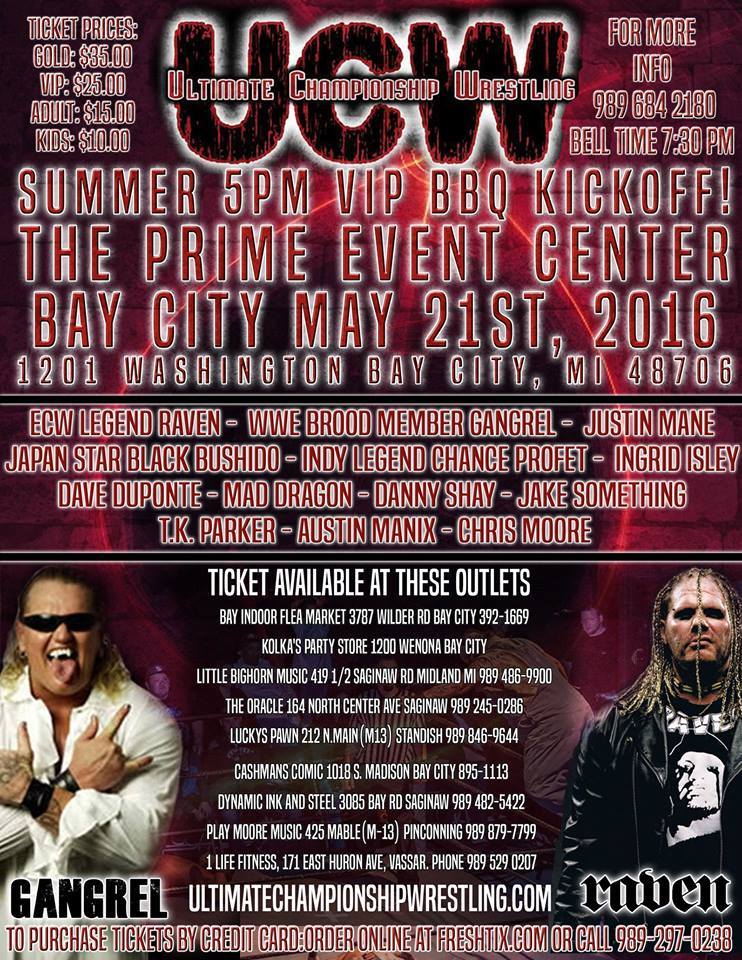 VIP Ticket holders enter at 5 PM for a FREE BBQ with special showcase show.  Lots of food and fun!
Scheduled Matches:
T.K. Parker vs. Raven
UCW Middleweight Championship
Champion Black Bushido vs. Challenger Tyler Tirvia
UCW Women's Championship
Champion Ingrid Isley vs. Sara Feeney vs. MJ Jenkins
Tag Team Match
The Frat vs. To Be Determined
Six Man Tag Team Match
Featuring Gangrel, Krimson, and Chance Profit

Scheduled to appear:

ECW Legend, Raven
WWE legend and Brood member, Gangrel
Japanese star Black Bushido
Independent Wrestling Star Chance Profet
Justin Mane
Ingrid Isley
Mad Dragon Hakim Zane
Jake Something
T.K. Parker
Austin Manix
Chris Moore
Idris Abraham
To purchase by credit card, CLICK HERE.
Order over the phone between 9 a.m. – 6 p.m.: 989-297-0238 (2 dollar processing fee for mailed tickets)
Reserve at the door (will call):  989-684-2180 (pay at the door)
Ticket Outlets:
BAY CITY
Bay Indoor Flea Market – 3787 Wilder Road – 989-392-1669
Cashman's Comic – 1018 S. Madison – 989-895-1113
Kolka's Party Store – 1200 Wenona
MIDLAND
Little Bighorn Music – 419 1/2 Saginaw Road – 989-486-9900
SAGINAW
Dynamic Ink and Steel – 3085 Bay Road – 989-482-5422
PINCONNING
Play Moore Music – 425 Mable (M-13) – 989-879-7799
STANDISH
Lucky's Pawn – 212 N. Main (M-13) – 989-846-9644
VASSAR
1 Life Fitness – 171 East Huron Ave – 989-259-0207
For more information, call 989-984-2180 or 989-415-8456, or 989-297-0238