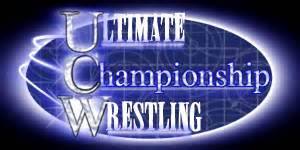 May 21 2016
Bryan Castle pinned Blake Acumen
Blatese Tiger pinned Jake Jacobs
MM3 pinned John E. Bravo
Ingrid Isley pinned J.L. Jenkins
Big Chuck Wagon pinned Chris Moore
The Frat beat Justin Mane & Austin Manix
Black Bushido retained the Cruiserweight Championship against Gavin Quinn and Tyler Tirva by pinning Tirva
Benjamin Boone pinned Bry Sullivan
Gangrel, Chance Prophet & Krimson defeated Danny Shay, Caleb Stills & Idris Abraham.  Shay walked out on his partners.
April 9th 2016
BAY CITY – Ultimate Championship Wrestling at the Prime Events
Center: Maltese Tiger pinned Blake Acumen…Chris Moore pinned
Lawrence Geter…Trey Miguel & Dominique Fabiano defeated John
E. Bravo & Ingrid Isley…Bryan Castle pinned Brandon
Edwards…Austin Manix pinned Idris Abraham…Heavyweight
champion Hakim Zane defeated Jake Something by
disqualification….Hakim Zane, Sebastian Rose, Trey Miguel,
Idris Abraham, & Bryan Castle defeated The Sandman, Jake
Something, Austin Manix, John E. Bravo, & Chris Moore by
disqualification.
(04-09-16)
November 27 2015 Bay City
-Black Bushido Def MM3to advance to the finals of the Light Heavyweight tourney
-Chelsea Marie def Miss Molly
-Mastermind Dave Duponte def TK Parker
-Caleb Stills def Jake Something
-Legion of Mayhem def Big Chuck Wagon, Ray Orndorff, and Andy Cheane
-Amazing N8 Mattson  def Palmer Cruise
-The Police Department def Zach Gowen + MM3
-Danny Shay def "The Mad Dragon" Hakiem Zane
-Sabu def DBA
-N8 Mattson won the 1st Annual Cassidy Christie Battle Royal
September 27 Bay City
Danny Shay beat N8 Mattson, Black Bushido, Caleb Stills, Benjamin Boone, & Bry Sullivan in a elimination match to win the heavyweight belt…Rod Street & Sgt. Phoenix beat Benjamin Boone & Bry Sullivan to win the tag belts…John E. Bravo beat Beekcake Andrews & Diego Davinci…N8 Mattson beat Aaron Williams…Black Bushido beat Jay Maynard…Caleb Stills beat Palmer Cruise…Danny Shay beat Carter Xavier
August 22 Roscomon
Benjamin Boone & Phil Atlas (sub for Bry Sullivan) beat Rod Street & Agent Anderson to retain tag belts…Brian Christopher beat N8 Mattson…Mary Elizabeth Monroe beat Ingrid Isley…Kevan O'Reilly won a battle royal…Deuce Diamond beat Kevan O'Reilly…Dakota Darsow beat Eric Freedom…Scotty D beat Mike Idol
May 16 results
Brian furry wins 8 man battle royal
.
Danny Shay defeats Johnny Bravo in tournament match
.
Black Bushido defeats Bryan castle in a tournament match
.
Ingrid defends her title against Shayla hide
.
Taylor Hendrix is introduced and win the title vs ingrid isley
.
B&B Wrecking Crew retain their titles against the karma police
.
Jake something defeats mad dragon in a tournament match
.
Justin Maine defeats Grandmaster sexay Brian Christopher by DQ in a tournament match
.
Mastermind Dave DuPont defeat TK Parker in a No DQ match after the match TK Parker is struck by a guitar by the honky Tonk Man
.
Main event Caleb stills defeat Gangrel
Previous Results throughout the years:
(21.02.2015) UCW @ Prime Events Center in Bay City, Michigan, USA
Two On One Handicap: Chuck Wagon defeats Brian Fury & John Lakey… James Alexander defeats Danny Shay… Ace Evans defeats Mitch Johnson… Abe Jackson defeats Derek Ryze… UCW Women's Title: Ingrid Isley (c) defeats Dominique by DQ… Caleb Stills defeats John E. Bravo… UCW Lightweight Title #1 Contendership: BLACK BUSHI defeats N8 Mattson… Justin Mane defeats Eugene… UCW Tag Team Title: The Flatliners (Asylum & Matt Burns) (c) vs. Benjamin Boone & Bry Sullivan – No Contest… UCW Tag Team Title Six Man Tag Team: Benjamin Boone, Bry Sullivan & Jim Duggan defeat The Flatliners (Asylum & Matt Burns) (c) & Phil Atlas – TITLE CHANGE !!!…
(25.10.2014) UCW @ Prime Events Center in Bay City, Michigan, USA
BLACK BUSHI defeats Abe Jackson… UCW Women's Title: Ingrid Isley (c) defeats Jasmin Areebi… The DBA defeats Jun Hado… Pod defeats Dakota DaVinci… UCW Title: Pete Christie (c) defeats Bry Sullivan… UCW Tag Team Title: The Flatliners (Asylum & Matt Burns) (c) defeat James Alexander & Malcolm Monroe III… Three Way: Justin Mane defeats Gavin Quinn and Matt Cross… UCW Lightweight Title: Chris Sabin defeats N8 Mattson (c) – TITLE CHANGE !!!…
(13.09.2014) UCW @ in Bay City, Michigan, USA
UCW Tag Team Title: Asylum & Matt Burns defeat The Pain Killers (Donnie Hollows & Jacob Hollows) (c) – TITLE CHANGE !!!… Loser Leaves Town Street Fight: TK Parker defeats Dave Duponte… UCW Heavyweight Title: Pete Christie defeats Austin Manix (c) – TITLE CHANGE !!!… The DBA defeats Danny Shay… Bry Sullivan defeats Diego DaVinci… UCW Lightweight Title: N8 Mattson (c) defeats Gavin Quinn by DQ… Gavin Quinn & Justin Mane defeat Chris Sabin & N8 Mattson…
(17.05.2014) UCW @ Prime Events Center in Bay City, Michigan, USA
Danny Shay defeats Jun Hado… Bry Sullivan defeats Johnny Bahama… UCW Lightweight Title: N8 Mattson defeats Petey Williams (c) – TITLE CHANGE !!!… Ingrid Isley defeats Seleziya Sparx… UCW Tag Team Title: Pain Killers (Donnie Hollows & Jacob Hollows) defeat Dymond Kouture & Hakim Zane (c) – TITLE CHANGE !!!… Austin Manix defeats Bry Sullivan… Alex Shelley, Caleb Stills, Justin Mane & N8 Mattson defeat Aiden Prince, Chris Sabin, Diego DaVinci & Petey Williams…
(22.02.2014) UCW @ Prime Events Center in Bay City, Michigan, USA
Renzo Lavell defeats Diego DaVinci… Brian Castle defeats Danny Shay… Bry Sullivan defeats Mr. Tennessee … Jasmin Areebi defeats Ingrid Isley… UCW Tag Team Title Match (vakant): Hakim Zane & Jacob Hollows defeat Caleb Stills & Justin Mane – TITLE CHANGE !!!… Austin Manix vs. Marty Jannetty – No Contest… Caleb Stills, Justin Mane & Marty Jannetty defeat Austin Manix, Hakim Zane & Jacob Hollows… UCW Lightweight Title: Petey Williams defeats Great Akuma (c) and Gavin Quinn and N8 Mattson – TITLE CHANGE !!!… Tag Team Street Fight: Legion (??? & ???) defeat Dave Duponte & Pete Christie… Rhino defeats Phil Atlas…
(12.10.2013) UCW @ Prime Event Center in Bay City, Michigan, USA
Justin Mane defeats Shane Strader… Alexia Nicole & Jasmin Areebi defeat Arella Angel & KC Lofton… Xander Davinci defeats POD … Nitro defeats Pete Christie… Sebastian Rose defeats Eddie Venom… Three Way: The Great Akuma defeats Ace Evans and Nick Xero… Austin Manix defeats Caleb Stills… Dave Duponte & Pete Christie defeat Malice & Nitro… N8 Mattson defeats Jimmy Jacobs…
(16.02.2008) UCW @ in Bay City, Michigan, USA
Eddie Venom defeats Cadillac Jones… Conrad Kennedy III, Jason Harris & Johnny Dynamo defeat Hebrew Hammer, Jeff Brooks & Kid Hybrid… Bull Wheeler vs. Pete Christie – No Contest… UCW North American Title: Sebastian Rose defeats Johnny Rebel (c) – TITLE CHANGE !!!… UCW Title Three Way: Daniel Sigma (c) defeats Bull Wheeler and Pete Christie… Petey Williams defeats N8 Mattson…
(14.07.2007) UCW @ Bay City Community Center in Bay City, Michigan, USA
Kid Statik defeats Michael Reaver… El Gordo defeats The Grappler… Rocky Fontaine defeats Melvin Nerdly… The Rude Boy defeats JJ Carson… Johnny Rebel defeats Gutter… UCW Tag Team Title: Chuck Wagon & Maynard R. Nek (c) defeat The Connecticut Experience (Daniel Sigma & Sky Devian)… UCW Title: Bull Wheeler (c) vs. Pete Christie – Double Count Out… UCW Midwest Title Three Way: Alcatraz (c) defeats Sebastian Rose and Tommy Titus…
(16.06.2007) UCW @ in Bay City, Michigan, USA
Daniel Sigma defeats El Gordo… Daniel Sigma defeats Rocky Fontaine… IBW Title: Johnny Rebel (c) defeats The Rude Boy… Alcatraz vs. Bull Wheeler – Double Count Out… Chuck Wagon & Maynard R. Nek defeat El Gordo & JJ Carson…
(19.05.2007) UCW @ Bay City Community Center in Bay City, Michigan, USA
The CIA (Black Velvett & Denzel Titan) defeat Jerry Draven & Michael Reaver… Diablo Loco defeats Chip Daley… Overkill & The Suicycos Slasher defeat Daniel Sigma & Sky Devian by DQ… Jaime D defeats Melvin Nerdly… JT Zorin defeats JJ Carson… D-Ray 3000 defeats Gutter… UCW Midwest Title: Alcatraz (c) defeats Tommy Titus… UCW Cruiserweight Title Ladder: Sebastian Rose (c) defeats Johnny Rebel … Bubba MacKenzie & Josh Movado defeat Chuck Wagon & Maynard R. Nek… UCW Title: Bull Wheeler (c) defeats A1…
(12.05.2007) UCW @ Skateland in Woodhaven, Michigan, USA
Overkill & The Suicycos Slasher defeat The Masked Grapplers (??? & ???)… Daniel Sigma defeats Steven Blade… Melvin Nerdly defeats NS Romero… Kid Statik defeats Nick Braxton… Pete Christie defeats Eddie Venom… Chuck Wagon & Maynard R. Nek defeat The Dynamics (Johnny Dynamo & Nick Braxton)… UCW Cruiserweight Title: Johnny Rebel defeats Sebastian Rose (c) by DQ… Daniel Sigma & Sky Devian defeat JJ Carson & Xavier Justice… UCW Midwest Title: Tommy Titus defeats Alcatraz (c) by DQ… UCW Tag Team Title: Gutter & N8 Mattson (c) defeat Overkill & The Suicycos Slasher… Melvin Nerdly defeats Steven Blade… UCW Title: Bull Wheeler (c) defeats JT Zorin…
(04.09.2006) UCW @ in Pinconning, Michigan, USA
Sebastian Rose defeats El Gordo… Bull Wheeler defeats The Masked Grappler 3… Azure defeats Los Chupa… Bull Wheeler defeats Sebastian Rose by DQ… Kid Freedom defeats El Gordo… Daniel Sigma defeats Azure…
(03.09.2006) UCW @ Gladwin Ice Festival in Albright Shores, Michigan, USA
Melvin Nerdly defeats The Masked Grappler 1… Bull Wheeler defeats El Gordo… Daniel Sigma vs. Sebastian Rose – No Contest… The Suicycos (Overkill & Slash ) defeat Kris Korvis & Whiplash by DQ… Deuce Diamond & Melvin Nerdly defeat The Masked Grappler 1 & The Masked Grappler 2… Daniel Sigma & Sebastian Rose defeat The Suicycos (Overkill & Slash )… UCW Cruiserweight Title: Sebastian Rose (c) defeats Whiplash…
(02.09.2006) UCW @ Gladwin Ice Festival in Albright Shores, Michigan, USA
Overkill & The Suicycos Slasher defeat The Masked Grappler 1 & The Masked Grappler 2… Azure defeats Rodney Penrod… Daniel Sigma defeats El Gordo… Bull Wheeler defeats The Masked Grappler 1… Overkill & The Suicycos Slasher defeat Azure & El Gordo… Melvin Nerdly defeats The Masked Grappler 2… UCW Cruiserweight Title: Sebastian Rose (c) defeats Rodney Penrod…
Daniel Sigma defeats Melvin Nerdly… Bull Wheeler defeats Sebastian Rose by DQ… Four Way: Sebastian Rose defeats Bull Wheeler and Daniel Sigma and Melvin Nerdly…
(13.08.2006) UCW @ Cump Days Festival in Garfield Township, Michigan, USA
UCW Cruiserweight Title: Sebastian Rose (c) defeats Chuck Weeden… Melvin Nerdly defeats El Gordo… Five Way Gauntlet: Miranda Chase defeats Chuck Weeden and Daniel Sigma and El Gordo and Melvin Nerdly…
(12.08.2006) UCW Crump Cup @ Cump Days Festival in Garfield Township, Michigan, USA
Sebastian Rose defeats Daniel Sigma… JCW Hardcore Title: The Rude Boy (c) defeats Chuck Wagon… Melvin Nerdly vs. Sebastian Rose – Double DQ… Crump Cup Round Robin: Daniel Sigma defeats El Gordo… Crump Cup Round Robin: Whiplash defeats Kris Korvis… Crump Cup Round Robin: Melvin Nerdly defeats El Gordo… Crump Cup Round Robin: Daniel Sigma defeats Kris Korvis… Crump Cup Round Robin: Melvin Nerdly defeats Whiplash… Crump Cup Round Robin: Melvin Nerdly defeats Daniel Sigma…
(10.08.2006) UCW Shooters Cup @ Shooters Nightclub in Saginaw, Michigan, USA
Shooters Cup First Round: Xavier Justice defeats Melvin Nerdly… Shooters Cup First Round: Sebastian Rose defeats Frank Stein… Shooters Cup First Round: Daniel Sigma defeats Chance Laredo… Shooters Cup First Round: Tommy Titus defeats Deuce Diamond… Shooters Cup Semi Final: Xavier Justice defeats Daniel Sigma… Shooters Cup Semi Final: Tommy Titus defeats Sebastian Rose… Shooters Cup Final: Tommy Titus defeats Xavier Justice… Kris Korvis & Whiplash defeat Hades & Percy Lynn…
(29.07.2006) UCW Pinconning Cheese Cup @ Sidewalk Sales in Pinconning, Michigan, USA
Pinconning Cheese Cup First Round: Daniel Sigma defeats El Guardo… Pinconning Cheese Cup First Round: The Nerd defeats The Masked Grappler Green… Pinconning Cheese Cup First Round: Deuce Diamond defeats The Masked Grappler Orange… Pinconning Cheese Cup First Round: Corporal Harris defeats Azure… Pinconning Cheese Cup Semi Final: Daniel Sigma defeats Corporal Harris… Pinconning Cheese Cup Semi Final: The Nerd defeats Deuce Diamond… Pinconning Cheese Cup Final: Daniel Sigma defeats The Nerd…
(15.07.2006) UCW @ Altered Skin Revolution in Saginaw, Michigan, USA
Sebastian Rose defeats Azure… Warren Peace defeats Michael Barnes… The Motor City Highrollers (??? & ???) defeat Masked Grappler Green & Masked Grappler Orange… Deuce Diamond defeats Masked Grappler Black… Whipdog defeats Rick Solid… Daniel Sigma defeats Masked Grappler Black… Miranda Chase defeats Michael Barnes… Three On Two Handicap: Daniel Sigma & Gary Dawson defeat The Masked Grappler Black, The Masked Grappler Green & The Masked Grappler Orange… Daniel Sigma & Sky Devian defeat The Masked Grappler Green & The Masked Grappler Orange… Two On One Handicap: Daniel Sigma & Warren Peace defeat Oreo… Whipdog defeats Oreo… Three Way: Warren Peace defeats Daniel Sigma and The Masked Grappler Orange… Falls Count Anywhere: Sebastian Rose defeats Sky Devian…
(02.06.2006) UCW Steiner Brothers Return Home @ Bay City Western High School in Auburn, Michigan, USA
Three Way: Daniel Sigma vs. Gary Dawson vs. Sebastian Rose… Three On Two Handicap: Elvis Elliott & The Original Sinn defeat Daniel Sigma, Gary Dawson & Sebastian Rose… UCW Tag Team Title: Daniel Sigma & Gary Dawson (c) defeat Elvis Elliott & The Original Sinn by DQ… Gutter defeats Theodore Segedi III… Four Way: Sebastian Rose defeats Frank Stein and Levi Blue and Outlaw Z… UCW Tag Team Title: Daniel Sigma & Gary Dawson (c) defeat The Chuckindales (??? & ???)… Levi Blue defeats Robby Williams… UCW Cruiserweight Title Match (vakant): Sebastian Rose defeats Gutter – TITLE CHANGE !!!… UCW Midwest Title: Chuck Wagon (c) defeats The Rude Boy… The Steiner Brothers (Rick Steiner & Scott Steiner) defeat Elvis Elliott & The Original Sinn…
(11.03.2006) UCW @ Bay City Community Center in Bay City, Michigan, USA
Rhastakhan defeats Xavier Justice… Bull Wheeler defeats Brian Bender… Pete Christie defeats Rhastakhan… UCW Midwest Title: Chuck Wagon (c) defeats Kevin Baker… Rick Steiner vs. The Masked Grappler – No Contest… UCW Tag Team Title: Daniel Sigma & Gary Dawson (c) defeat The Chunk'n'dales (??? & ???)… Ladder: Sky Devian defeats Sebastian Rose… Dyson Pryce defeats Alcatraz by DQ… UCW Title: Pete Christie defeats Bull Wheeler (c) – TITLE CHANGE !!!… The Steiner Brothers (Rick Steiner & Scott Steiner) defeat Eddie Venom & Elvis Elliott…
(20.12.2005) UCW/AWA Great Lakes AWA Great Lakes Tag Team Title Tournament – Tag 2 @ Bay City Community Center in Bay City, Michigan, USA
AWA Great Lakes Tag Team Title Tournament Semi Final: Buddha & JT Wolfen defeat Chainsaw & Nitro… AWA Great Lakes Tag Team Title Tournament Semi Final: N8 Mattson & Ricky Landell defeat Kirby Mack & TJ Mack… AWA Great Lakes Tag Team Title Tournament Final Match (vakant): Buddha & JT Wolfen defeat N8 Mattson & Ricky Landell – TITLE CHANGE !!!… AWA World Heavyweight Title: Steve Corino (c) defeats Pete Christie… AWA World Light Heavyweight Title: Kirby Mack (c) defeats Johnny Stewart… Daniel Sigma & Pierce Masters vs. Lynch & Storm – Double DQ… Four Way Elimination Tag Team: The Fat And Furious (??? & ???) defeat American Idol (??? & ???) and Agustus & King and Kurt Kaoss & The Nerd… Bull Wheeler & Dyson Pryce defeat The Street Sweepers (Gregory Vercetti & Jay Sin)… The Cuban Assassin defeats Flex…
(19.12.2005) UCW/AWA Great Lakes AWA Great Lakes Tag Team Title Tournament – Tag 1 @ Bay City Community Center in Bay City, Michigan, USA
Johnny Stewart defeats Sebastian Rose… AWA Great Lakes Tag Team Title Tournament First Round: Elvis Elliott & Original Sinn defeat American Idol (??? & ???)… AWA Great Lakes Tag Team Title Tournament First Round: Chainsaw & Nitro defeat The Fat And Furious (??? & ???)… AWA Great Lakes Tag Team Title Tournament First Round: The Henchmen (Buddha & Fatal) defeat Johnny Dynamo & Noah Lott… AWA Great Lakes Tag Team Title Tournament First Round: Kirby Mack & TJ Mack defeat Mr. Black & The Cuban Assassin… AWA Great Lakes Tag Team Title Tournament First Round: Simon Diamond & Steve Corino defeat Agustus & King… AWA Great Lakes Tag Team Title Tournament First Round: N8 Mattson & Ricky Landell defeat Chuck Wagon & Kurt Kaoss… AWA Great Lakes Tag Team Title Tournament First Round: Lynch & Storm defeat Dyson Pryce & The Nerd… AWA Great Lakes Tag Team Title Tournament First Round: Daniel Sigma & Pierce Masters defeat The Street Sweepers (Gregory Vercetti & Jay Sin)… AWA Great Lakes Tag Team Title Tournament Second Round: N8 Mattson & Ricky Landell defeat Lynch & Storm… AWA Great Lakes Tag Team Title Tournament Second Round: Chainsaw & Nitro defeat Daniel Sigma & Pierce Masters… AWA Great Lakes Tag Team Title Tournament Second Round: The Henchmen (Buddha & Fatal) defeat Simon Diamond & Steve Corino… AWA Great Lakes Tag Team Title Tournament Second Round: Kirby Mack & TJ Mack defeat Elvis Elliott & Original Sinn…
(12.11.2005) UCW @ in Bay City, Michigan, USA
Mayhem (Chainsaw & Nitro) defeat The Grapplers (??? & ???)… Alcatraz defeats Michael Elgin… Bull Wheeler defeats Sebastian Rose… Quinson Valentino defeats Dyson Pryce… Noah Lott defeats The Nerd… Daniel Sigma & Gary Dawson defeat Elvis Elliott & The Original Sinn… Dog Collar: Pete Christie defeats Justin Rhodes… AWA World Light Heavyweight Title Three Way Ladder: Kirby Mack (c) defeats N8 Mattson and Ricky Landell… Elvis Elliott & The Original Sinn defeat Mayhem (Chainsaw & Nitro)… Steel Cage: Chuck Wagon vs. The Rudy Boy – No Contest…
(08.10.2005) UCW/AWA Great Lakes @ in Bay City, Michigan, USA
Gauntlet: Winner: Chuck Wagon… Ricky Landell defeats Daniel Sigma… N8 Mattson defeats Gary Dawson… Noah Lott defeats Sky Devian… Three On Two Handicap: Alcatraz & Sebastian Rose defeat Mr. Main Event, PJ Flowers & Theodore Segeddi… Elvis Elliott & The Original Sinn defeat Mayhem (Chainsaw & Nitro)… Daniel Sigma & Gary Dawson defeat Bull Wheeler & Dyson Pryce… Quinson Valentino defeats Eddie Venom… N8 Mattson vs. Ricky Landell – Double Count Out… Daniel Sigma & Gary Dawson defeat Elvis Elliott & The Original Sinn… Pete Christie defeats Ricky Landell…
(20.08.2005) UCW/AWA Great Lakes @ in Bay City, Michigan, USA
Eight Man Gauntlet: Gary Dawson defeats Daniel Sigma and Frank Stein and Jayson Yang and Kid Static and Sebastian Rose and Sky Devian and The Prime Time Playa… Chuck Wagon defeats Alcatraz by DQ… Bull Wheeler & Dyson Price defeat The Masked Grapplers (??? & ???)… Jayson Yang defeats The Hatebreeder… Four Way Tag Team: Daniel Sigma & Gary Dawson defeat The Nerds (??? & ???) and Mr. Main Event & PJ Flowers and Kid Static & Sky Devian… AWA Great Lakes Title Tournament First Round: Bull Wheeler defeats Alcatraz… AWA Great Lakes Title Tournament First Round: Pete Christie defeats Dyson Pryce… AWA Great Lakes Title Tournament First Round: Justin Rhodes defeats Chuck Wagon… AWA Great Lakes Title Tournament First Round: Chainsaw defeats PJ Flowers… AWA Great Lakes Title Tournament Semi Final: Pete Christie defeats Bull Wheeler… AWA Great Lakes Title Tournament Semi Final: Justin Rhodes defeats Chainsaw… AWA Great Lakes Title Tournament Final Match (vakant): Pete Christie defeats Justin Rhodes – TITLE CHANGE !!!…
(14.08.2005) UCW/AWA Great Lakes @ Crump Festival Days in Crump, Michigan, USA
Bull Wheeler defeats The Masked Grappler… Steel Cage: Daniel Sigma defeats Sebastian Rose…
(13.08.2005) UCW/AWA Great Lakes @ Crump Days Festival in Crump, Michigan, USA
Sebastian Rose defeats Daniel Sigma… Chuck Wagon defeats Dyson Price… Bull Wheeler defeats The Masked Grappler… Lil' C defeats The Masked Grappler… Battle Royal: Winner: Bull Wheeler…
(12.06.2005) UCW @ in Canton, Michigan, USA
Michael Antonio & Sonny Scarboni defeat Jack Knox & Josh Knox… Vincent defeats Frank Stein… Daniel Sigma defeats Conrad Kennedy III… Three Way: Sebastian Rose defeats Overkill and Slash … N8 Mattson defeats Ricky Landell… Eddie Venom, Jayson Yang & Takao Omori defeat Mayhem (Chainsaw & Nitro) & Steve Corino…
(11.06.2005) UCW @ Bay County Community Center in Bay City, Michigan, USA
Tommy Titus defeats Daniel Sigma… Tommy Titus defeats Kurt Kaoss by DQ… UCW International Title: Dave Duponte (c) defeats Tommy Titus… Kurt Kaoss defeats Chuck Wagon… UCW Cruiserweight Title: N8 Mattson (c) defeats Ricky Landell… Jayson Yang, Pete Christie & The Milwaukee Mauler defeat Bull Wheeler, Chainsaw & Justin Rhodes… Sky Devian defeats Sebastian Rose… Justin Rhodes & Virgil vs. Mayhem (Chainsaw & Nitro) – Double DQ… UCW Title: nWo Sting (c) vs. Rick Steiner – No Contest… AWA World Heavyweight Title: Steve Corino defeats Takao Omori (c) – TITLE CHANGE !!!…
(10.06.2005) UCW/CIW @ Waldron High School in Waldron, Michigan, USA
PJ Flowers defeats Ricky Landell… Bull Wheeler vs. Tommy Titus – No Contest… CIW Tag Team Title: Chuck Wagon & Hoss Monahan (c) defeat Daniel Sigma & Kurt Kaoss… Dave Duponte vs. The Milwaukee Mauler – No Contest… CIW Cruiserweight Title: Jayson Yang (c) defeats Gary Dawson… Mayhem (Chainsaw & Nitro) & Rick Steiner defeat Jayson Yang, nWo Sting & Virgil… AWA World Heavyweight Title Three Way: Takao Omori (c) defeats Hoss Monahan and Steve Corino…
(21.05.2005) UCW Stripped Down @ Roadside Inn in Pinconning, Michigan, USA
Kid Static defeats Chuck Weeden… Daniel Sigma defeats Percy Lynn… Kevin Baker defeats Overkill … Sebastian Rose vs. Slash – No Contest… Sky Devian defeats Nick Xero… The Suicycos (Overkill & Slash ) defeat Kid Static & Sky Devian… Kevin Baker & Michael Barnes defeat Nick Xero & Percy Lynn… Sky Devian defeats Sebastian Rose… Overkill defeats Slash … Bull Wheeler defeats Chuck Wagon… Daniel Sigma defeats Kevin Baker… Percy Lynn defeats Nick Xero…
(14.05.2005) UCW @ Bay County Community Center in Bay City, Michigan, USA
Sebastian Rose defeats Sky Devian… UCW International Title: Dave Duponte (c) defeats Tommy Titus… Chuck Wagon vs. Kurt Kaoss – Double DQ… Two On One Handicap: Daniel Sigma & Pierce Masters defeat Nitro… Krissy Vaine defeats Kevin Baker… UCW Cruiserweight Title: N8 Mattson (c) defeats Sebastian Rose… UCW Tag Team Title: Pete Christie & The Milwaukee Mauler (c) defeat Daniel Sigma & Pierce Masters… Nitro defeats Dave Duponte… Bull Wheeler vs. Kevin Matthews – No Contest… Bull Wheeler & Rick Steiner defeat Kevin Matthews & nWo Sting…
(02.04.2005) UCW Night Of Champions @ Bay County Community Center in Bay City, Michigan, USA
Boomer defeats Brad Hexum… Daniel Sigma & Pierce Masters defeat Chuck Wagon & Kurt Kaoss… Lumberjack: Tommy Titus defeats Sebastian Rose… Justin Rhodes defeats Quinson Valentino… UCW Cruiserweight Title: N8 Mattson defeats Jayson Yang (c) – TITLE CHANGE !!!… UCW International Title: Dave Duponte defeats The American Patriot (c) – TITLE CHANGE !!!… UCW Women's Title Match (vakant): Josie defeats Super J – TITLE CHANGE !!!… UCW Tag Team Title: Pete Christie & The Milwaukee Mauler (c) defeat Mayhem (Chainsaw & Nitro) by DQ… UCW Title: nWo Sting (c) defeats Bull Wheeler… Steve Corino defeats Dr. Feelgood…
(13.02.2005) UCW 1st Anniversary @ Bay County Community Center in Bay City, Michigan, USA
UCW International Title Battle Royal (vakant): Winner: The American Patriot – TITLE CHANGE !!!… Boomer , Justin Rhodes & Kurt Kaoss defeat Daniel Sigma, Pierce Masters & PJ Flowers… Rick Steiner defeats The Bubster… Texas Death: Justin Rhodes defeats Dave Duponte… UCW Cruiserweight Title Five Way Ladder: Jayson Yang (c) defeats N8 Mattson and Sebastian Rose and Sky Devian and Tommy Titus… UCW Tag Team Title: Pete Christie & The Milwaukee Mauler defeat Mayhem (Chainsaw & Nitro) (c) – TITLE CHANGE !!!… UCW Title: nWo Sting (c) defeats The American Patriot… War Games Steel Cage: Bull Wheeler, Chainsaw, Nitro & Rick Steiner defeat Jayson Yang, nWo Sting, Pete Christie & The Milwaukee Mauler…
(08.01.2005) UCW @ Bay County Community Center in Bay City, Michigan, USA
Chainsaw defeats Daniel Sigma… Nitro vs. Pierce Masters – Double DQ… Chuck Wagon & Kurt Kaoss defeat The Kin (Blackjack Haynes & Steve Kline)… Three On One Handicap: The Warlord defeats Scott Hexum, Sebastian Rose & The Masked Grappler… Boomer vs. Chuck Weeden – No Contest… Tommy Titus defeats Neil Faith … Dave Duponte & Ricco Rodriguez defeat Bull Wheeler & Pete Christie… The Milwaukee Mauler defeats Justin Rhodes… UCW Tag Team Title: Mayhem (Chainsaw & Nitro) defeat Daniel Sigma & Pierce Masters… UCW Cruiserweight Title: Jayson Yang (c) defeats Tommy Titus… UCW Title Eight Way Elimination Match (vakant): nWo Sting defeats Bull Wheeler and Chainsaw and Justin Rhodes and Nitro and Pete Christie and The Milwaukee Mauler and The Warlord – TITLE CHANGE !!!…
(11.12.2004) UCW Old School Cup Tag Tournament @ Bay County Community Center in Bay City, Michigan, USA
Hypknow defeats Jayson Quick… Old School Cup Tag Tournament First Round: Justin Justice & X vs. Kevin Baker & Michael Barnes vs. Nick Xero & Percy Lynn – Triple DQ… Old School Cup Tag Tournament First Round: The Suicycos (Overkill & Slash ) defeat Frank Stein & Unrated… Old School Cup Tag Tournament First Round: Daniel Sigma & Pierce Masters defeat Bull Wheeler & Pete Christie… Tommy Titus defeats Sebastian Rose… Old School Cup Tag Tournament First Round: N8 Mattson & Sky Devian defeat Dave Duponte & Ricco Rodriguez… Old School Cup Tag Tournament First Round: BAM & Tommy Titus defeat Kurt Kaoss & Sebastian Rose… The Indiana Bad Boys (??? & ???) defeat Brad Hexom & Noah Lott… Boomer defeats Rodney Penrod… Blackjack Haynes defeats Kurt Kaoss… Old School Cup Tag Tournament Semi Final: Daniel Sigma & Pierce Masters defeat The Suicycos (Overkill & Slash )… Old School Cup Tag Tournament Semi Final: N8 Mattson & Sky Devian defeat BAM & Tommy Titus… Taped Fist: Bull Wheeler defeats Ricco Rodriguez… Street Fight: Pete Christie defeats Dave Duponte… Old School Cup Tag Tournament Final: Daniel Sigma & Pierce Masters defeat N8 Mattson & Sky Devian…
(06.11.2004) UCW @ Bay County Community Center in Bay City, Michigan, USA
Eight Way: Sky Devian defeats Ashley Sixx and Frank Stein and Hornet and Kid Static and Nick Xero and Tommy Titus and Unrated… UCW Tag Team Title: Mayhem (Chainsaw & Nitro) (c) defeat Rodney Penrod & Xavier Justice… Bull Wheeler vs. Dave Duponte – Double DQ… Sebastian Rose defeats Tommy Titus… Loser Leaves UCW: The Milwaukee Mauler defeats Doink The Clown… Justin Rhodes defeats Pierce Masters… Anton Arakis & PJ Flowers defeat Ashley Sixx & Hornet… UCW Cruiserweight Title: Jayson Yang (c) defeats Sky Devian… Daniel Sigma & Pierce Masters defeat The Half Ton Hillbillies (Chuck Wagon & Kurt Kaoss)… Eight Man Elimination Tag Team: Bull Wheeler, El Diablo , Pete Christie & Rick Steiner defeat Mayhem (Chainsaw & Nitro), Dave Duponte & Ricco Rodriguez…
(02.10.2004) UCW @ Bay County Community Center in Bay City, Michigan, USA
UCW Cruiserweight Title: Jayson Yang defeats Sky Devian (c) – TITLE CHANGE !!!… Chuck Wagon defeats The Masked Grappler… Sebastian Rose defeats Tommy Titus… The Hatebreeder defeats The Wrestling Superstar… Dave Duponte defeats Doink The Clown… The Milwaukee Mauler defeats Justin Rhodes by DQ… UCW Tag Team Title: Mayhem (Chainsaw & Nitro) (c) defeat Bull Wheeler & Pete Christie… Brutus Beefcake defeats Ricco Rodriguez… The Rainbow Warriors (Josh Abercrombie & PJ Flowers) defeat Daniel Sigma & Pierce Masters…
(14.08.2004) UCW @ Silver Derby Bar in Crump, Michigan, USA
UCW Cruiserweight Title: Sky Devian defeats Nick Static… The Connecticut Experience (Daniel Sigma & Pierce Masters) defeat The Suicycos (Overkill & Slash )… Bull Wheeler defeats The Hatebreeder… Lil' C defeats The Hatebreeder… Chuck Wagon & Dave Duponte defeat Demolition Crush & Henry Fuji… Nick Static & Sky Devian defeat The Suicycos (Overkill & Slash )…
(12.06.2004) UCW @ Bay County Community Center in Bay City, Michigan, USA
UCW Title: The Barbarian defeats Justin Rhodes (c) – TITLE CHANGE !!!… The Hatebreeder defeats The Masked Grappler… Buddy Hanlon & Whiplash defeat The Titus Brothers (Timmy Titus & Tommy Titus)… UCW Cruiserweight Title: Sky Devian defeats Jayson Yang (c) – TITLE CHANGE !!!… Bull Wheeler & PJ Flowers defeat El Diablo & Pete Christie… Chuck Wagon defeats Pierce Havok… AWA New England Title: Koko B. Ware (c) defeats Dave Duponte… UCW Title / UCW Tag Team Title Six Man Tag Team: The Barbarian (c) & Mayhem (Chainsaw & Nitro) defeat Justin Rhodes, Robert Gibson & Scott Magnum (c) – TITLE CHANGE !!!…
(11.06.2004) UCW @ Gladwin Civic Center in Gladwin, Michigan, USA
UCW Cruiserweight Title Four Way: Jayson Yang (c) defeats Buddy Hanlon and Sky Devian and Timmy Titus… Pierce Havok defeats The Hatebreeder… Chuck Wagon defeats Eddie Venom… Pete Christie defeats Dave Duponte… AWA New England Title: Koko B. Ware (c) defeats Bull Wheeler… Jade vs. Randi West – No Contest… The Arabian Freedom Fighter defeats The Patriot… Justin Rhodes, Robert Gibson & Scott Magnum defeat Mayhem (Chainsaw & Nitro) & The Barbarian…
(24.04.2004) UCW @ Bay County Community Center in Bay City, Michigan, USA
UCW Title Battle Royal (vakant): Winner: Justin Rhodes – TITLE CHANGE !!!… Ricco Rodriguez defeats Tommy Titus… Will The Eliminator defeats Dave Duponte… UCW Cruiserweight Title Three Way Ladder Match (vakant): Jayson Yang defeats Sky Devian and The Hatebreeder – TITLE CHANGE !!!… UCW Tag Team Title Two Out Of Three Falls: Robert Gibson & Scott Magnum (c) defeat Mayhem (Chainsaw & Nitro)… No Disqualification: nWo Sting defeats The Milwaukee Mauler…
(23.04.2004) UCW @ Gladwin Civic Center in Gladwin, Michigan, USA
Pete Christie defeats Pierce Havok… Buddy Hanlon defeats Tommy Titus… Dave Duponte defeats Chuck Wagon by DQ… N8 Mattson defeats Jayson Yang… Doink The Clown & Eric Freedom defeat Bull Wheeler & PJ Flowers… Scott Magnum defeats The Hatebreeder… Bullrope: Justin Rhodes defeats Chainsaw… nWo Sting defeats The Milwaukee Mauler…
(20.03.2003) UCW @ Bay County Community Center in Bay City, Michigan, USA
Jayson Yang defeats N8 Mattson… PJ Flowers defeats El Diablo … The Hatebreeder & Will The Eliminator vs. The Titus Brothers (Timmy Titus & Tommy Titus) – Double DQ… Mayhem (Chainsaw & Nitro) defeat Chuck Wagon & Justin Rhodes… Robert Gibson & Scott Magnum defeat Brad Anderson & The Mauler… Demolition Ax defeats Ricco Rodriguez by DQ… UCW Tag Team Title Match (vakant): Robert Gibson & Scott Magnum defeat Mayhem (Chainsaw & Nitro) – TITLE CHANGE !!!…
(19.03.2003) UCW Ground Zero @ Hope Center in Adrian, Michigan, USA
Jayson Yang & PJ Flowers defeat Hornet & Slash … Mayhem (Chainsaw & Nitro) defeat Southern Pride (Chuck Wagon & Justin Rhodes)… Brad Anderson & The Mauler defeat Dave Duponte & Frankie The Face… The New Rock-n-Roll Express (Robert Gibson & Scott Magnum) defeat Bobby Bambino & Jimmy Jacobs… Jimmy Shalwin defeats Pierce Havok… The New Rock-n-Roll Express (Robert Gibson & Scott Magnum) defeat Jayson Yang & PJ Flowers… Brad Anderson & The Mauler defeat Mayhem (Chainsaw & Nitro)… The New Rock-n-Roll Express (Robert Gibson & Scott Magnum) defeat Brad Anderson & The Mauler…
(14.02.2003) UCW Debut Show @ in Bay City, Michigan, USA
HUGE! & Tommy Titus defeat Kevin Baker & Michael Barnes… Seven Man Gauntlet: Sky Devian defeats GQ and Hornet and Jayson Yang and Overkill and Slash and The Hatebreeder… Ricco Rodriguez defeats Justin Rhodes… Chuck Wagon defeats Eddie Venom… The Russian Assassin defeats The Patriot by DQ… El Diablo vs. Pete Christie – No Contest… Doink The Clown defeats Will The Eliminator… Gutter defeats PJ Flowers… Brad Anderson